Michael Tinsley – President and CEO, NeoSystems
This Audiocast brought to you by our PROUD sponsors of excellence in leadership:
---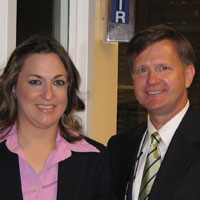 theleadersspot096-1
Michael Tinsley is the Founder, President and Chief Executive Officer of NeoSystems Corp., a Managed Services Provider that delivers comprehensive, on-site, business accounting services to government contractors.
Michael founded NeoSystems in 2000 after 20 years of industry experience that gave him a vision for providing quality, efficient, and innovative accounting services.  Under Michael's leadership, the Tysons Corner-based firm serves more that 50 clients and employs approximately 100 professionals, who often manage the majority of a client's accounting and financial work.
Michael's career includes extensive financial and administrative management experience with high-growth companies and government contractors.  Before establishing NeoSystems, he served as Vice President of Finance and Administration with Broadsoft, a Voice over Internet Protocol (VoIP) solutions provider.
He also served as Chief Financial Officer for Scientific Research Corporation, a research and engineering firm specializing in defense communications systems.  He also held senior positions with Digital Lightwave, Inc., and BTG, Inc.  In addition, he owned and managed a private accounting practice and began his career at Price Waterhouse.
Michael is a Certified Public Accountant with a Bachelor's Degree from Murray State University.