Chris D'Agostino- CEO, Near Infinity
This Audiocast brought to you by our PROUD sponsors of excellence in leadership:
---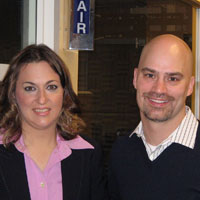 Chris D'Agostino is the founder and Chief Executive Officer of Near Infinity Corporation. Chris formed Near Infinity in 2002 with the goal of establishing a place where engineers could focus on solving some of industry's most challenging problems. Chris' vision for Near Infinity is to build a company that truly changes the way its clients build software, and he believes that Near Infinity employees represent some of the best minds in the industry. As CEO, Chris oversees daily operations and sets the strategic direction of the company. He is a firm believer in leading by example, and is committed to leveraging technology to help run an efficient, fun, and friendly company.
Chris has nearly 20 years of technical experience in the industry. He began his career with TRW as a Systems Engineer working on government contracts for the Department of Defense and the Department of State. Chris held several technical leadership positions and focused on local and wide area network (LAN/WAN) design and implementation. In 1998, he began developing C and Java applications for a small technology company in Washington, D.C. Over the last five years, Chris has focused exclusively on Java and has had the opportunity to develop thin and thick client applications for the J2EE platform.
Chris holds both a B.S. and an M.S. in Electrical Engineering from Virginia Tech.
from www.nearinfinity.com

Interview Air Date: May 12, 2009