Michelle Lee – Founder and CEO, STG International Inc.
This Audiocast brought to you by our PROUD sponsors of excellence in leadership:
---
http://leadersportfolio.com/images/stories/podcast/LeadersSpot002-3.mp3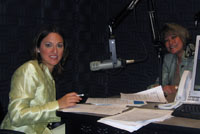 Ms. Lee, who founded STG International, Inc in 1997, possess more than 20 years of experience in all aspects of business operations and government contracting. She is a hands-on executive, involved in every aspect of business operations and customer development within STG. As President and CEO of STG, she has successfully transitioned and managed more than 60 business contracts, worth more than $250 million, during the course of her career to date.
STG International's exponential growth demonstrates Ms. Lee's ability to succeed through rapidly adapting to new environments and responsibilities, operating from a global perspective, and by integrating divergent concepts that result in creative solutions to problems. Ms. Lee's expertise in recruiting, retaining, and motivating superior talent from within the various workforces are the keys to her success in building STG. Ms. Lee has a Master of Science degree in Library and Information Sciences from Texas Woman's University.
(from http://www.stginternational.com/html/management.htm )
Interview Air Date: June 20, 2007