Alan Snyder – CEO, BoxTone
This Audiocast brought to you by our PROUD sponsors of excellence in leadership:
---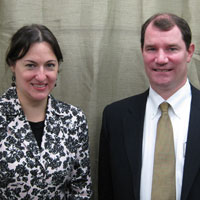 To his role as CEO, Alan Snyder brings a wealth of senior management and consulting experience that continues to shape BoxTone's approach to mobile user management. Throughout his professional career, Alan has been at the forefront of planning, designing, deploying, supporting, and expanding advanced business software and technology solutions for major corporations and government institutions.
Before joining BoxTone, he served as President and CEO of Idea Integration, a business unit of MPS Group and multi-national provider of e-business development and integration solutions. In addition to leading the company through several successful acquisitions, he helped Idea generate $240 million in revenue in 2000 and eventually become the largest integration partner for BEA.
Earlier in his career, Alan was a principal with IT consulting firm Perspective Technology, where he provided hands-on leadership to help successfully grow the company until it was acquired by MPS. He also served as a senior consultant at Accenture, where he developed and delivered IT solutions for Government Agencies. Alan received a Bachelor of Science degree in electrical engineering from Bucknell University.
from www.boxtone.com
Interview Air Date: October 18, 2009