E. Hunt Burke – CEO and Vice Chairman of the Board, Burke and Herbert
This Audiocast brought to you by our PROUD sponsors of excellence in leadership:
---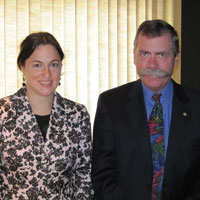 leadersportfolio002-1
E. Hunt Burke is a member of the fifth generation of his family to operate Burke & Herbert Bank & Trust Company, Virginia's oldest bank. He has worked at the bank in a variety of roles since the age of 13 and as a full time staff member for 29 years. Mr. Burke is currently Chief Executive Offcer at Burke & Herbert. He also serves as Vice Chairman of the Board of Directors. Hunt Burke was born and raised in Alexandria, Virginia. He attended Episcopal High School and the University of Richmond, then received his B.A. from George Mason University while working full-time at the bank. He graduated with honors from the Graduate School of Bank management at the University of Virginia. Mr. Burke is active in several community organizations including The Campagna Center and Friends of Carlyle House. His past service has included Elder Crafters of Alexandria, the Alexandria Chapter of the American Red Cross, Alexandria Business Cares Foundation and Alexandria Neighborhood Kids at Risk. He also serves on the Board of Directors for Five Guys Burgers & Fries. He and his wife of 25 years, Molly, reside in Alexandria with their four daughters.