Larry Harding – Founder and President, High Street Partners
This Audiocast brought to you by our PROUD sponsors of excellence in leadership:
---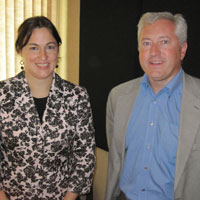 leadersportfolio003-1
Prior to founding High Street Partners, Larry Harding served as Vice President of International Finance for Ciena Corporation, a global supplier of telecommunications equipment. In this position, he developed and implemented the financial, accounting and administrative functions for Ciena's international operations – which included 20 overseas offices in Europe, Asia, and Latin America – and provided assistance in such specialized areas as currency risk management and international logistics. Before joining Ciena, Larry held various positions in public accounting and private industry, including serving as CFO of Omnia Corporation and as Corporate Controller at VideoServer, where he contributed to the success of the company's IPO. Earlier in his career, Larry served as CFO for Replica Corporation and as a Senior Manager and an M&A Consultant at Ernst & Young in Boston.
In 2000, he received The World Trade Center Institute's annual Maryland International Business Leadership Award, which recognizes Maryland business executives whose creative influence has attributed to the global success of their companies. Larry became licensed as a CPA in Massachusetts in 1988 and holds a Bachelor of Science in Economics with a dual major in Finance and Accounting from the Wharton School of the University of Pennsylvania.
from www.hsp.com
Interview Air Date: November 4, 2009