Steve Griessel – CEO, American Community Properties Trust
This Audiocast brought to you by our PROUD sponsors of excellence in leadership:
---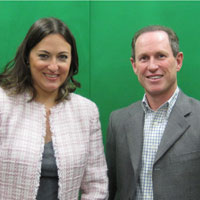 leadersportfolio004-1
Steven K. Griessel, 49, has served as Chief Executive Officer of the Company since October 1, 2008. Mr. Griessel previously served as a consultant to the Company for sixteen months, investigating possible strategies and structures to unlock long term shareholder value. Mr. Griessel started his first business, a sports marketing firm, at the age of 25. He served as the Managing Director and was a shareholder of RCI Southern Africa for nine years, and was a founding shareholder and Chief Executive Officer of Tourvest, until recently a publicly traded multi-faceted tourism company in Southern Africa. Prior to his work for ACPT, Mr. Griessel provided consulting services to the Ginn Company, a developer and manager of large-scale residential resort properties throughout the United States and the Caribbean, and other companies for three years. Mr. Griessel is currently the Chairman of the Orlando, Florida chapter of the Young Presidents Organization, and served on its global Board of Directors between 2001 and 2003.
from www.acptrust.com
Interview Air Date: November 11, 2009