Brian Hajost – President and CEO, SteelCloud
This Audiocast brought to you by our PROUD sponsors of excellence in leadership:
---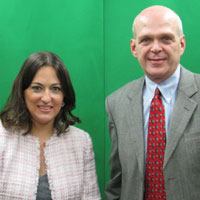 leadersportfolio004-3
Brian H. Hajost has most recently served as a consultant to the Company. From February 2007 until June 2008, Mr. Hajost served as Executive Vice President of Cryptek, Inc. Mr. Hajost served as Chief Operating Officer of the Company from December 2003 until June 2006 and President from June 2005 until June 2006. Prior to December 2003, he served as the Company's Executive Vice President of Sales & Marketing from June 2001 until his promotion to the COO position in 2003. Mr. Hajost also founded two consulting companies in 2006 and 2008.
from www.steelcloud.com

Interview Air Date: November 11, 2009