Brian Leung – CEO and Chairman of the Board, Array Information Technology
This Audiocast brought to you by our PROUD sponsors of excellence in leadership:
---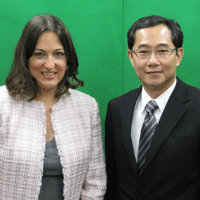 leaders-porfolio-106-1
Right after his B.S graduation, Mr. Brian was employed as a systems application programmer with the world's third largest chemical manufacturer in Baltimore, Maryland. Mr. Leung was inspired with the power of IT innovation 20 years ago while he was taking part in a major project of the Production Delivery System using distributing relational database installed worldwide. Since then, Mr. Leung was certified as the Systems Engineer in Novell, Microsoft and Cisco. He was the leadPM of several IT projects and implementations for clients such as the World Bank, DITCO, Department of Navy, and Army. Mr. Leung is a staunch believer in the broad use of IT to provide efficient service and enhance communications.
After 12 years of an IT career in technical and business management working in a successful small business company, Mr. Leung entered into his own entrepreneurship in Array Information Technology in year 2000. With years of experience in the Government and Private sectors, Mr. Leung is offering years of progressively complex IT experience in a variety of mission-critical projects for government and commercial enterprises.
Education:
B.S. in Computer Science from the University of Maryland
M.S. in Management Information Systems from Bowie State of Maryland