Alvin Thompson – Owner, New Couture
This Audiocast brought to you by our PROUD sponsors of excellence in leadership:
---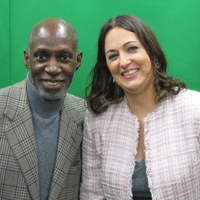 leaders-porfolio-106-2
Alvin Thompson began his training at age 15 as an apprentice in the haute couture salon of Salvi of Florence in Washington, DC under the tutelage of Nunzio and Gina Salvi. He went on to spend the next 35 years devoted to the design and construction of garments including studying at the Fashion Institute of Technology, design and painting at Howard University and art therapy at George Washington University.
"Though my interest has always been in construction of clothing and how to manipulate fabric, studying the arts was invaluable because it taught me that anyone could wear almost any design if cut proportionately. Each of us carries our own personal geometry based on his or her own personal bust-to-waist-to hip-to-height-to-weight set of dimensions."
During the twenty years he spent honing his skills as a tailor Alvin learned how to take less-than-perfect proportions and make them look perfect to the eye. In his view it's one reason why the jacket remains the main stay of most wardrobes; it's the one garment you will find in everyone's wardrobe.
We began New Couture, Inc. in 2004 as a direct response to the lack of connection that the fashion industry has with real women. The word "New" in our name signifies that we use the latest in measuring and pattern-making technology. At the same time, our garments are constructed in the method of "Couture". From the muslin prototype we create to ensure the garment's silhouette works for our clients body geometry to dressmaker details, including hand-cut fabrics, and application of hand-made flowers and passmenterie, our garments are set apart from others by the tradition of the finest couturier houses.