Dan Solomon – CEO, Virillion
This Audiocast brought to you by our PROUD sponsors of excellence in leadership:
---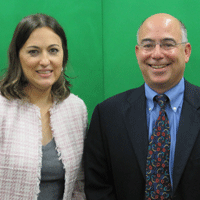 Dan joined the firm as CEO in 2000, and as Chairman of the Board of Directors, sets the agency's general strategic direction. He also directs our marketing and business development activities.
As a leading expert in the communications industry for the last 20 years, Dan is frequently asked to speak to industry groups and non-technical professionals nationwide about integrating Internet techniques into communication strategies. In December of 2007, Dan co-authored his first book, Media Rules! Mastering Today's Technology to Connect with and Keep Your Audience, published by Wiley.
Prior to joining Virilion, Dan was publisher of nationaljournal.com, the National Journal Group's "members only" Web site and was general manager of National Journal's CongressDaily and Technology Daily. Dan held a political appointment with the U.S. Department of Commerce and worked in senior legislative positions in the United States Senate for Senator Harris Wofford (D-PA) and Senator Daniel Akaka (D-HI). He also practiced commercial law with the firm of Hale and Dorr and clerked for the U.S. Court of Appeals in St. Louis, Missouri.
Dan is a graduate of the University of Michigan and the University of Minnesota Law School.
from www.virilion.com
Interview Air Date: November 25, 2009