Darryl Washington – President and CEO, DKW Communications
This Audiocast brought to you by our PROUD sponsors of excellence in leadership:
---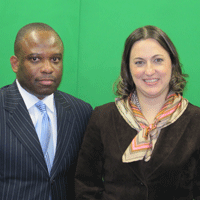 leaders-porfolio-209-1
As the founder and CEO, Darryl Washington fosters a corporate culture of excellence, innovation, and integrity. As a direct result of Mr. Washington's leadership, in five years, the number of DKW employees has grown to 150. DKW is headquartered in Washington, DC. Mr. Washington's leadership of DKW has resulted in DKW being recognized two years in a row by Washington Technology's Fast 50 as one of the fastest growing companies in the region. In 2007, DKW ranked 8th and in 2006, DKW ranked 2nd on Washington Technology's 2007 Fast 50 Government Contractors list.Mr. Washington was born in Birmingham, Alabama and grew up in Washington, DC. He received a B.S. in Electrical Engineering from Howard University. Prior to founding DKW Communications, he spent nine years working as a civil servant, supporting intelligence agencies, and another four years working in positions of increasing responsibility, at such systems integrators as RSIS and STG. With more than 15 years of expertise in areas such as senior executive, financial, and technical management; network engineering; logistical support; facilities management; information assurance; telecommunications support; and systems engineering, Mr. Washington provides vision and guides DKW Communications in applying proven and effective IT solutions for its clients.
His community activities include serving on the Board of Directors at his community church. Mr. Washington is a sponsor of the AAU Basketball Team. He is on the Board of the National Leadership Council of Greater Washington, DC, and was elected a member for the year 2004. Mr. Washington is also a sponsor of the National Book Club Conference, and he serves as a mentor on education for the Washington, D.C. public school system.