Kevin Burke – Founder, President, and CEO, Centuria Corporation
This Audiocast brought to you by our PROUD sponsors of excellence in leadership:
---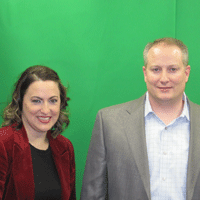 Mr. Burke served as a United States Marine from 1988 to 1992. By mastering database programming in his spare time and without formal training he systematically automated his role within HQMC, Arlington, VA. Corporal Burke was awarded a Navy Achievement Medal in 1991 shortly after completing the application that eliminated 50% of his workload.
Upon leaving the Marine Corps, Mr. Burke joined the Department of Health and Human Services, Office of the Secretary as a Computer Systems Analyst. Mr. Burke served four years at HHS as a GS-7, 9, 11 and 12. During his tenure Mr. Burke was certified as an Oracle Professional and spearheaded the implementation of the Oracle platform at HHS. Mr. Burke also led the evaluation and subsequent department-wide rollout of Windows 3.1 and developed the initial data model for the HHS grants system.
In 1996 Mr. Burke left HHS and accepted an Oracle consulting position at MCI. Four months later at the age of 27 he formed Synapse Incorporated and accepted Synapse's first engagement for Oracle Consulting Services as a subcontractor to UNISYS Corporation.
Synapse grew at a rate in excess of 100% annually for the following four years. In 2000 Mr. Burke raised investment capital to pursue a dot.com model focused on automating the private healthcare industry. Although the system Synapse sold for the following two years is still in use in six states, the business model, like most dot.com business models crashed and burned in late 2002. Mr. Burke formed Centuria in 2002 and purchased the still profitable government services division of Synapse.
From 2005 to 2008 Centuria exploded with 5,968% growth making back-to-back appearances on the Inc. 500 (15th fastest growing private firm in the U.S. in 2009) and back-to-back appearances on the Washington Technology Fast 50. Centuria has also been ranked among the Top 100 GWAC contractors by Federal Times, the Delloite Fast 50, and has been featured in Inc. Magazine. Centuria's 95% customer satisfaction ratings during this period of extreme growth are the strongest statement on Mr. Burke's leadership of the company.
from www.centuria.com
Interview Air Date: December 23, 2009