Fran Lessans – President and CEO, Passport Health
This Audiocast brought to you by our PROUD sponsors of excellence in leadership:
---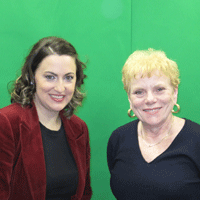 leaders-porfolio-211-3
As founder, president and CEO of Passport Health, Fran brings over 30 years of medical and management experience to Passport Health. Before founding Passport Health, Fran worked in a variety of clinical settings as a registered nurse, educator and health care administrator. Fran's business acumen is known in the community, as she has successfully turned multiple troubled organizations into profitable ventures.
In 2005 she was awarded the Innovator of the Year award by the Maryland Department of Business & Economic Development and in 2006 won the Ernst & Young Entrepreneur of the Year award for the Maryland region.
Fran holds a B.S.N. degree from the University of Maryland, School of Nursing and a master's degree from the same institution where she majored in public health and administration. She lives in Anne Arundel County, Maryland, with her husband who is the senior partner in a county law firm and corporate council for Passport Health®. Their two grown children include an Urologist son practicing in Lancaster, Pennsylvania and an Architect daughter practicing in New Orleans, Louisiana.