Raj Ananthanpillai – Chairman, CEO and President, InfoZen
This Audiocast brought to you by our PROUD sponsors of excellence in leadership:
---
leaders-porfolio-213-2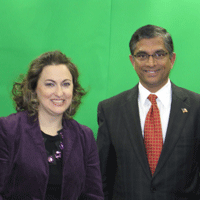 Mr. Ananthanpillai is the Chairman, CEO and President of InfoZen and has been with the company since January 2004. Previously he was a Partner at The MIRA Group LLC, a Business Strategy and Financial Consulting Firm. Prior to that, he served as the Chief Strategy Officer of ePlus, Inc. (NASDAQ: PLUS), a business process automation, asset management and financial services company, responsible for technology, marketing, analyst relations and business strategy. Prior to that, he was the president and CEO of NetBalance Corporation, a venture capital backed multi-million dollar software products and services company, which was successfully sold in February 2000.
Before founding NetBalance Mr. Ananthanpillai was the Vice President of strategy and marketing at I-NET, Inc., a $300+ multi-million dollar company, where he was responsible for developing new products, services, markets, strategic business alliances and overall strategy. He had also served as the Vice President and General Manager of one of I-NET's business units, growing a multi-million dollar IT outsourcing and managed services business offering to Fortune 100 and public sector customers. Prior to joining I-NET, Mr. Ananthanpillai spent several years at AT&T and was responsible for directing and managing the company's global messaging system managed services.
Mr. Ananthanpillai holds an M.S. in Engineering Physics, an M.S. in Electrical Engineering, and Executive Management degrees in International Business Management and Financial Planning. He is also a Certified Financial Planner (CFP ®), with a US Patent on managing networked systems, and the author of two books in the area of Systems Management and Managed Services. Additionally, Mr. Ananthanpillai is a frequent speaker at executive forums and is widely profiled in industry trade and business publications. He has appeared on business television programs, and mentors several emerging companies, serving on the board of some of them. Mr. Ananthanpillai is also on the advisory board of Johns Hopkins Business School and is a practitioner faculty, teaching Competitive Strategy in the University's MBA program.
from www.infozen.com
Interview Air Date: January 13, 2010