Jeffrey S. Abramson – Partner, The Tower Companies
This Audiocast brought to you by our PROUD sponsors of excellence in leadership:
---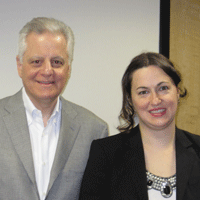 Jeffrey S. Abramson is a partner in The Tower Companies, a three-generation, award winning, family-owned real estate development company located in Rockville, MD, the largest Green Developer in the Washington, DC area, and one of the largest purchasers of Green Energy in the country, buying 100% wind energy for their electrical energy needs. The Tower Companies is one of only thirteen carbon-neutral companies in the U.S.
Mr. Abramson is one of the inspirations behind Tower Companies' award winning industry projects, which continue to garner the company, numerous city, county, state, and national awards. The most recent awards include: 2008 Environmental Excellence Award from the City of Rockville, 2008 Corporate Green Award, Multi-Housing News, 2008 Spirit of Free Enterprise Award, Montgomery County Chamber of Commerce, 2008 Green Company of the Year, Washington Business Journal, 2008 Corporate Green Leader of the Year, Washingtonian Magazine, 2007 Business of the Year Award, from the DC Chamber of Commerce and in 2007 he was also named by Washington Business Journal in "People to Watch." In 2006 Tower received the Leadership Award for Green Power Purchasing from the Environmental Protection Agency and the U.S. Department of Energy, alongside other national leaders such as Toyota Motorcars, Whole Foods, and Johnson & Johnson.
Additionally, Mr. Abramson is a member of the Board of Trustees of The David Lynch Foundation which provides scholarships throughout the United States for learning the stress reduction technique of Transcendental Meditation. He is also a Board member for Maharishi University of Management in Fairfield, Iowa, an award-winning university specializing in Consciousness-Based Education.
In October 2007, Mr. Abramson announced his intention to build a Tower of Invincibility in the Nation's Capital as a monument to a new science of peace to safeguard our nation.