Donnie Downs – President and CEO, Plan B Technologies
This Audiocast brought to you by our PROUD sponsors of excellence in leadership:
---
leaders-porfolio-216-3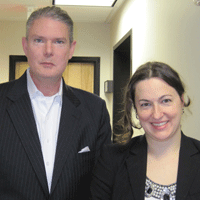 Donnie Downs has over 18 years of experience in the IT industry. From 1988 to 1995, Mr. Downs was employed by AT&T and Lucent Technologies and held various positions in finance, sales management and marketing management. From 1995 to 1999, Mr. Downs served as general manager for Vertical Software, Inc., a systems integrator specializing in Microsoft and Citrix-based networking solutions.
After the acquisition of Vertical Software, Inc. in 1999 by FutureLink Corporation (International ASP), Mr. Downs served as one of four directors supporting the Southeast region which consisted of over 200 employees and included offices located in Washington, DC, Chantilly, Va., Richmond, Va., Raleigh, N.C., Atlanta, Ga., and Miami, Fla.
Before entering into the IT industry, Mr. Downs received his Bachelor of Science degree in political science from Towson University. Shortly after, he was accepted into the U.S. Army Officer Candidate School located in Ft. Benning, Ga. There he participated in a variety of leadership and curriculum programs. Mr. Downs also holds his Master of Science Administration degree with a marketing specialty from Central Michigan University. Mr. Downs is currently the president and CEO of the Bowie-based IT systems integration firm, Plan B Technologies, Inc., and serves as a part-time economics, marketing and business administration instructor at the College of Southern Maryland.
from www.planbtech.net
Interview Air Date: February 3, 2010