Daniel Cohen-Dumani, Founder and CEO, Portal Solutions
This Audiocast brought to you by our PROUD sponsors of excellence in leadership:
---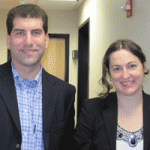 leaders-porfolio-217-1
Daniel Cohen-Dumani started Portal Solutions in 2002. His mission from the beginning has been to build the leading provider of business solutions based on Microsoft's Collaborative Technologies, specifically those based on the SharePoint platform. Under Daniel's leadership, the company has thrived and is one of the fastest growing firms in the DC area as ranked by Inc. magazine. Daniel previously served as the CTO of OCM/Alloy, and prior to that he served as the CIO and Senior Vice President of the Execustay division of Marriott Corporation. Daniel graduated from the Swiss Federal Institute of Technology with a degree in Computer Science.