Davis A. Buckley – President, Fellow of the American Institute of Architects (FAIA), Davis Buckley Architects and Planners
This Audiocast brought to you by our PROUD sponsors of excellence in leadership:
---
leaders-porfolio-218-1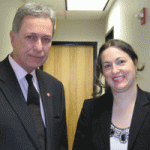 Davis A. Buckley, FAIA, has over 30 years of architectural and planning experience and today is an elected member of the American Institute of Architects' College of Fellows (COF). One of the highest honors the AIA bestows upon a member, it recognizes the signii cant contributions the architect has made to architecture and society.
Mr. Buckley came to Washington in 1975 to assess the facility needs of the US House of Representatives. Four years later, he established Davis Buckley Architects and Planners and has since worked on a wide range of projects, including: national museums and memorials, historic preservation, master planning and feasibility studies, educational facilities, hotels, corporate offices, retail facilities, restaurants, mixed-use buildings, medical facilities, and environmentally sensitive Planned Unit Developments. Mr. Buckley has served as an expert and advisor on large projects throughout the US. The i rm has received more than twenty-four awards in the past ten years, of which nine are National Awards and one is an International Design Honor Award. Among these awards are: AIA Honor Awards; a Presidential Design Achievement Award for Excellence in Design; twice, The Tucker Architectural Award of Excellence; and an International Design Award from the United States Air Force. Mr. Buckley is the only architect to be honored twice with the Henry Hering Medal, the Art and Architecture Award from the National Sculpture Society, which has only been awarded eighteen times in its forty-seven year history, and honors the positive collaboration between architect and sculptor. Mr. Buckley served for three years as advisor to the Venetian Casino Resort in Las Vegas. He has served as advisor to the Vietnam Veterans Memorial Fund since 1979, and was advisor to the Rockefeller family on the National Museum of the American Indian.
With experience in working with the complex approval process in Washington, DC, he has presented projects before the US Commission of Fine Arts, the National Capital Planning Commission, and the District of Columbia Zoning Commission and has worked with the DC Historic Preservation Oi ce, the Anacostia Watershed Society, the District of Columbia Department of Transportation, the DC Office of Planning, and the Washington Metropolitan Area Transit Authority. The firm is a member of the US Green Building Council. Mr. Buckley is Chair of the Exhibitions Committee of the National Sculpture Society, member of the Arts Commemorative Committee with Brown University's John Carter Brown Library, member of the new US Capitol Visitor's Center Arts Task Force, and a long-time advisor to the National Organization on Disabilities. Mr. Buckley has commissioned two portraits for the US House of Representatives, served as chair of the St. Andrews Building Committee, and was a cofounder / trustee of the Washington Episcopal School with his wife Jean Smith Buckley.