Adam Pattisall – President and CEO, IncrediTek
This Audiocast brought to you by our PROUD sponsors of excellence in leadership:
---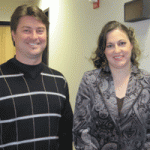 leaders-porfolio-219-3
Adam Pattisall, age 40, founded IncrediTek in 2004 and began serving as President and Chief Executive Officer. In addition to his existing responsibilities, Mr. Pattisall founded Quality Fibers, LLC in 2006, a fiber optics product distribution company, and currently serves as its President and Chief Executive Officer. If that isn't enough, he also helped form AdaRon Tel, LLC in February of 2008. AdaRon Tel provides outside plant engineering services to tier 1 communications companies. Mr. Pattisall holds the position of Chief Executive Officer for AdaRon Tel and currently manages its contract administration and marketing efforts.
Prior to 2004, he served as Optical Sales Lead for the Verizon account while at Lucent Technologies and also held the title of Director of Customer Service and Support for the Metro Optical Networking Group. Before working for Lucent Mr. Pattisall held the position Director of Global Customer Service and Support for Cromatis. Mr. Pattisall is credited with patent number 6471413 for the development of a unique fiber optics dust protector; Alcatel-Lucent currently holds the rights.
During his nineteen years in the communications industry, Mr. Pattisall served as Director of Worldwide Service & Support for Ciena Corporation from 1995 through 1999 and also worked for Fujitsu.
Mr. Pattisall proudly served in the United States Army from 1987 to 1992 in its Satellite Communications Program, during his time in the military he held the rank of Sergeant from 1988 to 1992 in the Okinawa, Japan Battalion. Mr. Pattisall resides in Bel Air, MD with his wife of over 15 years and their three children.
from www.increditek.com
Interview Air Date: February 24, 2010