Chuck Faughnan, Sr. – President, Bridges Consulting
This Audiocast brought to you by our PROUD sponsors of excellence in leadership:
---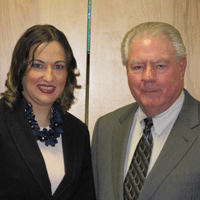 From 1997 to 2000, Chuck was a consultant to DoD, contractors and educational clients, providing executive coaching, strategic planning, program management and acquisition support. From 1965 to1997, he was a senior executive within the IC. He served two overseas assignments, in Europe and Asia, and led a major directorate during his 32-year career. Chuck holds a B.A. in Business Management and in Government and Politics from the University of Maryland. He is also a graduate of the National Defense University, Intelligence Community Fellows Program and the Federal Executive Institute.
from www.bridges-inc.com
Interview Air Date: March 17, 2010