Brian W. Callahan – President and CEO, Segue Technologies
This Audiocast brought to you by our PROUD sponsors of excellence in leadership:
---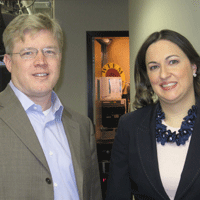 Mr. Callahan provides leadership, strategic direction, and vision for Segue Technologies. He also provides management and oversight of several major contracts.
Mr. Callahan has more than 15 years of experience supporting Department of Defense programs and information technology solutions. He has managed complex software development efforts, Pentagon IT support operations, and business intelligence implementations. Before moving into the IT field, Mr. Callahan provided budget, financial, and manpower analysis for Headquarters Air Force, including support to the Nuclear Posture Review (NPR).
Prior to starting his corporate career, Mr. Callahan served in the United States Army in the 75th Ranger Regiment and in the 12th Special Forces Group, Army Reserves.
Mr. Callahan holds a Bachelors degree in Business Administration from the University of Michigan and a Master's of Science degree in Environment Sciences from the Johns Hopkins University.
from www.seguetech.com
Interview Air Date: March 31, 2010