Sheela Murthy – Founder and President, Murthy Law Firm
This Audiocast brought to you by our PROUD sponsors of excellence in leadership:
---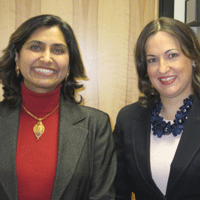 leaders-porfolio-224-2
Attorney Sheela Murthy is founder, president, and managing attorney of the Murthy Law Firm, located in Baltimore County, Maryland. Her firm of approximately 70 professionals concentrates in the area of U.S. Immigration Law. Having completed her Master of Laws (LL.M.) from Harvard Law School in Cambridge, Massachusetts, USA, Ms. Murthy has been admitted to practice as an attorney in New York, Maryland, and the U.S. Supreme Court. Before starting the Murthy Law Firm, then known as the Law Office of Sheela Murthy, she practiced with major law firms in New York and Baltimore.
Attorney Murthy is a member of several legal and professional organizations. She is active in the American Immigration Lawyers Association (AILA). She has been on the Executive Committee of the Washington D.C. Chapter of AILA. Prior to this, she was chair of the Liaison Committee to the Department of Labor for Maryland, Virginia, and Washington D.C. for the AILA D.C. Chapter. She continues to be a leader in the organization.
Attorney Murthy is regularly invited to present papers and speak on various complex immigration law issues before AILA and other national and international organizations, including the International Bar Association in London and the Center for International Legal Studies in Salzburg. She is on the Board of Trustees and co-chairs the American Immigration Law Foundation (AILF)'s Annual Immigrant Achievement Awards event, which selects and recognizes outstanding immigrants who have made notable contributions to American life.
Notable among her many awards and recognitions, Ms. Murthy was a 2009 regional Ernst & Young Entrepreneur of the Year, was listed as one of the 40 Under 40 Emerging Business Leaders in July 2001 by Baltimore Magazine and one of the Top 25 lawyers in Baltimore-Washington by the Baltimore Business Journal in 1999. She is on the Board of Trustees of the American Immigration Law Foundation (AILF), a not-for-profit organization that seeks to educate, lobby, and litigate on issues dealing with U.S. immigration law.
In the past, Attorney Murthy has been a member of the American Bar Association (ABA) and has served on the Immigration Law Coordinating Committee of the ABA (1999-2001). Attorney Murthy has been active in the Maryland State Bar Association, the Law Practice Management Committee and the Technology Committee. She has also been on the Executive Committee of the Bar Association of Baltimore City (YLS). Ms. Murthy is fluent in French and Hindi.