Greg Baroni – Chairman and CEO, Attain
This Audiocast brought to you by our PROUD sponsors of excellence in leadership:
---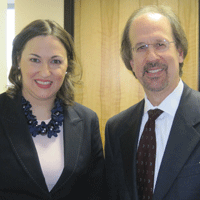 Greg Baroni is chairman and chief executive officer, as well as one of the founding members of Attain. Mr. Baroni spent the past seven years serving in a leadership capacity at Unisys Corporation. He served in both an officer role as a corporate senior vice president and in an operational leadership role as president, Federal Systems and Global Public Sector. In these roles, he was responsible for a worldwide business comprised of six geographic regions and the U.S. Federal Systems group. Under his leadership, these business units achieved extraordinary results. During his tenure, the Federal Systems group doubled its revenue while achieving industry standard operating margins.
Prior to joining Unisys, Mr. Baroni spent almost 20 years at KPMG Consulting, where he held a number of roles. His last role was as senior vice president of KPMG Consulting's Public Services practice – a $750 million business with 110 managing directors and 2,500 staff serving government, education, health, and nonprofit institutions. In this capacity, he advised numerous organizations in critical business areas such as strategy, cost optimization, and distributed learning. Mr. Baroni also led development, implementation, and integration projects involving enterprise-wide packaged solutions for a number of his clients. He directed the development of a number of software solutions, including grants management, cost allocation, property management, space utilization, and effort reporting. Furthermore, he pioneered the spinoff of a distributed learning group that is now a public company, Blackboard.
Mr. Baroni has received numerous market leadership awards such as the Fed 100, Fast Company's Fast 50, and Consulting Magazine's Top 25. In addition, Mr. Baroni is an active leader in the professional association community serving in leadership roles in Northern Virginia Technology Council (NVTC), Information Technology Association of America (ITAA), and Homeland Security & Defense Business Council (HSDBC), as well as with charitable organizations in the national capital area including the National Kidney Foundation and the American Red Cross.
Mr. Baroni earned a bachelor's degree in Economics at the University of Southern California.
from www.attain.com
Interview Air Date: March 31, 2010