Randy Slager – Chairman and CEO, Catapult Technology
This Audiocast brought to you by our PROUD sponsors of excellence in leadership:
---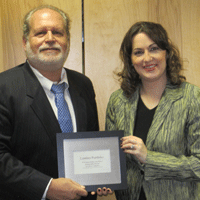 Mr. Slager was commissioned in the U.S. Army in 1975 after graduating with B.S. degrees in Computer Science and Psychology. He served as the executive officer of the Data Processing Center, 7th Medical Command, US Army, Europe providing IT support to 14 Hospitals and 260 medical clinics throughout European Theater. In 1978, he sustained a serious spinal injury on active duty that required nine months hospitalization and ended his Army Career.
Mr. Slager developed the TELCON network operating system for Sperry-Univac while completing his Masters in Computer Information Systems which was the first graduate program focused on the corporate CIO function.
In 1982, Mr. Slager joined the Federal Bureau of Investigation as a senior computer scientist in the R&D program to automate the FBI's 59 field divisions. He was a technical architect of a $500 million system that connected mainframe centers to over 6,000 desktop computers, the field applications and the national network all in a top secret secure environment.
Mr. Slager was the managing consultant supporting the FAA's outsourcing of its non-air traffic control IT systems under the $1.2B Computer Resources Nucleus Program. Mr Slager, as a founder and partner in E&A, managed the technical support effort which was the FAA's CIO's program support staff. This $1.2B effort was the largest information technology outsourcing effort undertaken by the Federal Government at that time.
In 1996, the E&A partnership was dissolved and Mr. Slager founded Catapult Technology. From 1996 to 2000, Catapult built a solid performance base at the Department of Transportation. In September 2001 Catapult won over $45M in IT infrastructure support contracts at DOT. Since that time, Mr. Slager has focused on the expansion of the firm into other Agencies, particularly in the Homeland Security area and has been an active advocate for opening business opportunities to veterans, especially disabled veterans, seeking to be entrepreneurs.