Michaela Schwartz – Founding Partner, Green and Blue
This Audiocast brought to you by our PROUD sponsors of excellence in leadership:
---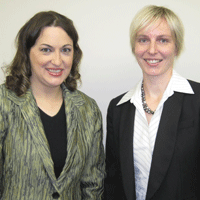 Michaela Schwartz is a founding partner of GREEN AND BLUE. Michaela met Daniela in Washington DC although she is also a native of the Czech Republic. Michaela opened GREEN AND BLUE to provide Washington women with an oasis in which to shop where every client is treated to a personal shopping experience.
Michaela has a Degree in Business and worked in businesses in Europe before coming to Washington DC in 1997. GREEN AND BLUE combines Michaela's enthusiasm for fashion and keen business skills.
from www.greenandbluestyle.com
Interview Air Date: April 7, 2010