Phil Soucy – CEO and Co-President, Modern Technology Solutions
This Audiocast brought to you by our PROUD sponsors of excellence in leadership:
---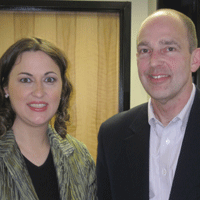 leaders-porfolio-226-1
In 1993, Tom McMahan and Phil Soucy launched Modern Technology Solutions, Inc. with a single
defense contract and a few computers. Today, MTSI is a dynamic company thrice recognized by the renowned business magazine, Washington Smart CEO, as one of the 50 fastest growing companies in the metropolitan DC region, and listed as one of Inc.'s Top 500 companies. Through focusing on taking care of their employees, providing technical solutions of the highest quality to customers and a spirit of giving back to the community, Tom and Phil have turned MTSI into a well-respected and highly regarded player in the defense industry.
Phil Soucy also has over 31 years of experience in aerospace government and industry with specialized expertise in low observable, counter low observable technology and electronic counter measures. In addition to handling the financial and business management, and daily operations of MTSI, Phil oversees operational analyses of modern low observable and counter low observable weapon systems, red teaming of proposals and analysis of technology investment plans. After receiving his Bachelor's degree in Mechanical Engineering and a commission from Norwich University, Phil spent over 20 years as an Air Force officer. He started his illustrious career first as a weapons systems officer, then a flight test engineer, and finally as a program manager for the Assistant Secretary of the Air Force for Acquisition's Special Projects branch. In addition to being an USAF Test Pilot School graduate, Phil holds multiple advanced engineering degrees and also serves on many senior advisory boards.