Kris Appel – Founder and President, Encore Path
This Audiocast brought to you by our PROUD sponsors of excellence in leadership:
---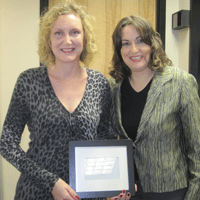 My name is Kris Appel and I am the Founder and President of Encore Path, Inc., a Baltimore, Maryland-based medical device company. I created the company in 2006 to commercialize and sell cutting-edge, research-based stroke technologies. The University of Maryland, Baltimore is leading the pack in creating neural regenerative technologies designed to help stroke patients improve their quality of life.
Encore Path's debut product is Tailwind™, a first-of-its-kind stroke rehabilitation device that has been proven in clinical studies to permanently improve arm function in stroke patients with paralysis.