Chuck Newhall – General Partner and Co-Founder, New Enterprise Associates
This Audiocast brought to you by our PROUD sponsors of excellence in leadership:
---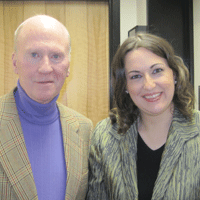 leaders-porfolio-227-1
Chuck is a Co-Founder and General Partner of NEA. His investment activities focus on healthcare services, healthcare information services and biopharmaceutical companies. Chuck's current board memberships include BrainCells, Bravo Health, Interfusio, Pharmos, Sensors for Medicine & Science, Supernus Pharmaceuticals, TargetRx, and Vitae Pharmaceuticals. His prior board memberships include AMERIGROUP, Caremark, Chomerics, CoGenesys, Genetic Therapy, LifeMetrix, Life Technologies, PatientKeeper, Russ Pharmaceuticals, Scandipharm, Sepracor, Surgical Health, and Zymark Corporation.
Chuck founded the Mid-Atlantic Venture Capital Association (MAVA), which now has over 80 venture capital firms that are members, and is one of the most active regional venture associations in the country. He is Chairman Emeritus of MAVA. Chuck continues to be deeply engaged as a venture capital industry advocate and is frequently invited to speak to organizations and institutions about the state of the industry. Recently he has worked alongside fellow industry veteran Pete Bancroft to chronicle the history of venture capital, personally underwriting 10 interviews with leading venture capitalists and supervising another 10 interviews. He is a Trustee of the Baltimore Museum of Art and a Member of the University of Maryland, Baltimore County Board of Visitors.
Before co-founding NEA, Chuck was Vice President of T. Rowe Price Associates (Vice President of their New Horizons Fund). He served in Vietnam, commanding an independent platoon including an initial reconnaissance of Hamburger Hill. His decorations include the Silver Star and Bronze Star V (1st OLC.). He received his MBA from the Harvard University Graduate School of Business and his BA in English Literature with honors from the University of Pennsylvania.
from www.nea.com
Interview Air Date: April 21, 2010