Taras Raggio – President and CEO, Taras Techniques
This Audiocast brought to you by our PROUD sponsors of excellence in leadership:
---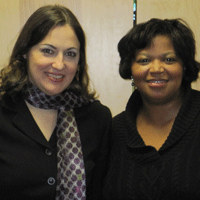 Taras Techniques was ranked #992 on the Inc. 5000 in 2009. Taras N.K. Raggio, MPA, HHP, has held the position of Managing Principal for TARAS TECHNIQUES, LLC for the past six years. She is responsible in her role for providing oversight and facilitation of the business. Taras has over 20 years combined experience in public administration, health care consulting, and public policy/compliance.
Taras' expertise includes working at all levels of echelons within the Government, Non-governmental agencies, and Private Industry. She has undertaken assignments, which include synchronizing meetings relating to major acquisition items of interest with key members of Congress, Ambassadors, foreign Dignitaries and Presidential Elect officials.
Taras holds a Master of Public Administration, specializing in Public Health Administration;  Board Certified Holistic Health Practitioner; Certified Holistic Stress Management Specialist;  Certified Clinical Aromatherapist.  In addition, Taras has a Professional Certificate in Legislative Studies, and a Bachelor of Science, Environmental Studies with a concentration in Computer Science.