Sally Seiler – CEO, The Neurology Center
This Audiocast brought to you by our PROUD sponsors of excellence in leadership:
---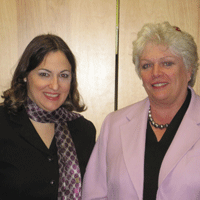 Sally Seiler joined The Neurology Center in 1995. She received her BA degree in history from the University of Michigan and a MS in accounting from Georgetown University. She is a CPA. Her previous experience includes doing tax work for a Big Eight Accounting firm, structuring real estate syndications and working as a senior financial officer of a national home building firm.
The Neurology Center, with seven clinical locations and an administrative facility, is a provider of neurological services in the Washington DC metro area. This single specialty practice was started by Marvin Korengold, MD and Howard Silby, MD in 1969 in downtown Washington, DC. Additional offices were established in suburban Maryland and elsewhere in the District as the practice grew and added physicians. The group has long maintained a reputation for excellence. Its physicians are well represented in the listing of Top Doctors in "Washingtonian Magazine" and are recognized as well by their inclusion in other local and national peer-selected listings of excellent doctors.