Greg Diamond – Managing Partner and Co-Founder, Clovis
This Audiocast brought to you by our PROUD sponsors of excellence in leadership:
---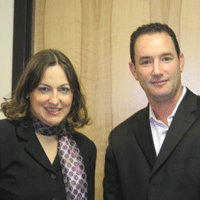 leaders-porfolio-229-1
Prior to founding Clovis, Greg Diamond served as Executive Vice President of Millioneyes and built the company from inception to acquisition in a 16-month period. Greg was responsible for Sales, Marketing and Business Development. From September 1998 to May 1999 he was at ProLink Services, LLC, a telecommunications application development company, where he was responsible for company strategic direction and business development. Greg held various Sales & Management positions from March 1995 to October 1998 for GE Capital Information Technology Solutions. The positions included National Account Executive, where he was recognized as the number one account executive in the nation, and Regional Business Development manager, where he was responsible for more than $30 million in revenue. From June 1993 to March 1995, Greg was an Account Manager at Xerox. Greg received his Bachelor of Arts in Pre-law and Education from the University of North Carolina at Wilmington in June 1992.
from www.clovisgroup.com
Interview Air Date: May 12, 2010