Dr. Jonathan Gueverra – CEO, Community College of the District of Columbia
This Audiocast brought to you by our PROUD sponsors of excellence in leadership:
---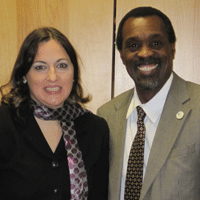 leaders-porfolio-229-3
Jonathan Gueverra serves as the Chief Executive Officer of the new Community College of the District of Columbia, driving innovation and enlisting diverse talent to ensure higher education opportunity for all. Dr. Gueverra has held numerous leadership and faculty positions at both two-year and four-year higher education institutions nationwide—most recently as the provost for the Alexandria Campus of Northern Virginia Community College (NOVA), one of America's largest community colleges.
Dr. Gueverra has taught undergraduate courses in accounting, management, and human resources, as well a graduate courses in leadership and strategic management and continues to work with doctoral students at Lesley University. He has published articles on planning, leadership, and technology, including "Repositioning for a Virtual Culture," which won a Highly Commended Award at the Literati Network Awards for Excellence 2008. Dr. Gueverra also has served on numerous boards, including those of the Massachusetts Business Educators Association, New England Educational Assessment Network, Lesley University, ITT Technical Institute, and the Marshfield Youth Soccer Association. For more than 15 years, he has implemented and coordinated Volunteer Income Tax Assistance programs to help low-income, elderly, and non-native English speakers.
In April 2007, Dr. Gueverra received an Exemplary Leadership Award from the Chair Academy, and he is a member of Phi Theta Kappa, Alpha Beta Gamma, Who's Who Among Students, and Who's Who Among America's Teachers. He earned an MBA and Doctor of Education from the University of Massachusetts, Boston; a bachelor's degree from Providence College; and an associate's degree from Newbury College.
from www.ccdc.usdc.edu
Interview Air Date: May 12, 2010