Dr. Shahin Samadi – Co-Founder and President, INNOVIM
This Audiocast brought to you by our PROUD sponsors of excellence in leadership:
---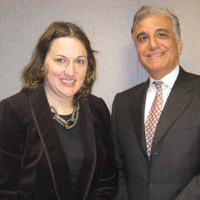 2011-03-12-lp-301-shahin-samadi
Dr. Samadi has over 20 years of extensive experience in managing technology organizations, including all different phases of software and system engineering lifecycles of complex, industrial-strength information and data-processing systems. Prior to forming Innovim, Dr. Samadi was the Chief Technology Officer and Senior Vice President of Merkle Data Technologies.
His business unit was responsible for application development, integration, deployment, and operation of custom solutions for a wide array of commercial and non-profit businesses across North America. Merkle is a $100M privately held company and a leading firm specializing in Database Marketing and CRM solutions and services. Prior to Merkle, he served as Vice President of Engineering for a streaming media company, Vodium and a senior managment role for BNA where Dr. Samadi was responsible for setting up the technology and infrastructure that allowed BNA to migrate from a paper-based content provider to an internet-enabled vendor of electronic news and information. Prior to BNA, he served as NASA Technical Director for the Earth Observing Satellite missions, where he was responsible for management, design, deployment and operation of mission-critical systems. He also founded, ran, and sold a privately held boutique-engineering firm, SAK Technologies. Dr. Samadi serves as adjunct Professor at Johns Hopkins University, teaching Software Engineering, System Design, and Management of Information Systems. He has presented and published many technical papers in the area of software and systems engineering. Dr. Samadi has a Ph.D. and M.S. in Computer Science and B.S. in Electrical Engineering from George Washington University.
from www.innovim.com
Interview Air Date: March 12, 2011