Dr. Sandra Kurtinitis – President, Community College of Baltimore County
This Audiocast brought to you by our PROUD sponsors of excellence in leadership:
---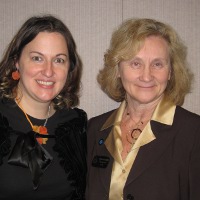 2011-04-02-lp304-sandra-kurtinitis
As president of the Community College of Baltimore County, Dr. Sandra L. Kurtinitis leads the largest provider of higher education in the Baltimore region. An experienced and respected educator, administrator and author, she has been a community college professional for more than 30 years. Dr. Kurtinitis is resolutely committed to inclusive leadership and open communication, affirming her belief that the classroom is a far more important place on campus than the executive office.
A self-described "servant-leader," Dr. Kurtinitis came to CCBC from Quinsigamond Community College in Massachusetts, where she served as president for 10 years. She is credited with transforming that college into one of the most progressive institutions in the state. Having brought that same level of commitment into her presidency at CCBC, she is confidently guiding the college to its next level of excellence.
Under Dr. Kurtinitis' leadership, CCBC has made significant strides in improving service to students while strengthening its operational areas to best support instruction. She has established a leaner executive structure, bringing strong central leadership across the college while fostering a collaborative, learning-centered environment.
Dr. Kurtinitis is no stranger to Maryland higher education. Early in her career she spent 22 years as a professor of English, department chair and academic coordinator at Prince George's Community College (Md.). She also received her master's degree in British Literature from the University of Maryland, College Park, and earned her Ph.D. in American Civilization from The George Washington University (D.C.). Dr. Kurtinitis holds a bachelor's degree in British Literature from College Misericordia (Pa.).
Glad to be "back home" in Maryland, Dr. Kurtinitis is committed to staying connected to the community and actively participating on a variety of local boards, commissions and organizations.
from www.ccbcmd.edu
Interview Air Date: April 2, 2011