Jeff Antkowiak – Founder and Chief Creative Officer, ADG Creative
This Audiocast brought to you by our PROUD sponsors of excellence in leadership:
---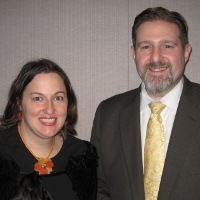 2011-04-16-lp306-jeff-antkowiak
It's easy to see that Jeff, ADG's founder, is an impressive conglomeration of culture and creativity. After all, he is an accomplished musician and composer whose work has been on radio and TV. He is an illustrator and a writer whose drawings and prose have graced the pages of everything from Marvel comics to Rolling Stone and Smithsonian Magazine. He is an educator who serves on the permanent board of directors of Rockbridge Academy, a highly respected private school. He's a gourmet chef. And, of course, he's ADG's chief creative officer. But the really interesting question about Jeff is: How did he develop all these skills? "Well, my father was a musician who kept odd hours," he says, laughing at the memory. "And my mother, well let's just say she didn't like being up alone at night. So she would wake up my brother and me, haul us out of bed, and read us stories.
Then she would get out our paper and pencil, and say: 'Write a play and draw me the characters in the story. Show me what they look like.' I didn't know it at the time, but she was training me in my life's work. She was teaching me to be a story teller." That gift for narrative is still inside Jeff. Every single job that leaves ADG has his own personal imprimatur and reflects his unique vision. And that has been an extremely valuable asset for many client organizations. Jeff has succeeded in bringing great creative where it has rarely (if ever) gone before. But he's also brought fresh thinking to famous commercial brands like Discovery Channel, King's Dominion, Hewlett Packard, TEK Systems, Medicine-On-Time, and Covenant College. These organizations turn to Jeff for the perspective and ideas of an extraordinarily unique communicator. "Every client has a story," Jeff says. "And I'm grateful that they trust ADG to help tell it."
from www.adgcreative.net
Interview Air Date: April 16th, 2011