Theresa Alfaro Daytner – CEO and President, Daytner Construction Group
This Audiocast brought to you by our PROUD sponsors of excellence in leadership:
---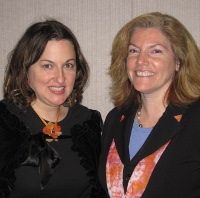 Theresa Alfaro Daytner, CEO of Daytner Construction Group, has an entrepreneurial passion. She earned her Bachelor's degree in Accounting at the University of Maryland in 1989, after starting her first business, a residential roofing company.
In January 2003, Ms. Daytner launched The Daytner Corporation, now doing business as Daytner Construction Group (DCG). DCG is a general contracting and construction management firm serving government, institutional, and private clients.
Ms. Daytner has also developed strategic alliances with complimentary companies in order to expand DCG's scope of services, geographic reach and capacity. Being a member of Vistage, a CEO Roundtable organization, formerly known as TEC, a member of the Maryland Hispanic Chamber, WIPP, CMAA and also an alumni of several Executive Education programs at Dartmouth University's Tuck School of Business, Ms. Daytner enjoys being a lifelong learner.
from www.daytnercorp.com
Interview Air Date: April 23, 2011