Stephanie Y. Drake – President and CEO, Drake, Incorporated
This Audiocast brought to you by our PROUD sponsors of excellence in leadership:
---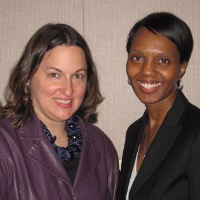 2011-05-21-lp311-a
Stephanie Y. Drake, 42, is the Founder and President of Drake Incorporated ("Drake"), a minority woman-owned construction and real estate services firm, providing fully integrated solutions to federal, state and local public agencies and the private sector.
A kernel of an idea, she founded the company on faith, family values and her love of real estate. Like everything else she has embarked on in her life, Drake serves as a vehicle to fulfill her passion and calling; to empower and impact the communities around her and ultimately on a global level.
Her personal and professional journey was captured in an emotional October 2010 issue of the Atlanta Post titled "Her fateful journey to heading her own construction and real estate services firm." It was a raw, exhaustive chronicle of her life where she exposed her true self to inspire would-be entrepreneurs to leverage the power of their convictions and perseverance to overcome seemingly insurmountable challenges; sacrificing comfort and security as the price of accomplishing the extraordinary.
As a woman facing the daunting challenge of breaking into an overwhelmingly male-dominated industry, Stephanie defied the odds by translating her personal values and vision into a set of niche attributes for her business that ultimately enabled Drake to turn a humble beginning into a solid position in the highly contested Federal arena.
Known for her hands-on management style, the start-up years at Drake demanded not only Stephanie's leadership but her full involvement in every aspect of the company. From operations to contracts to construction oversight, her keen business acumen gave life to her principles and paid off: today she leads Drake's professional staff of 14 while orchestrating creative win-win strategies with global partners that deliver unmatched value to Drake's Federal and commercial clients.
Her commitment to delivering outstanding, conscientious service and fostering long-term relationships enabled her to turn a small $10,000 contract to build a partition wall at the Museum of Natural History into a multimillion-dollar relationship with the Smithsonian Institution. To date, Drake has served numerous federal agencies on increasingly larger projects at the National Institutes of Health (NIH), the U.S. General Services Administration (GSA), the Washington Navy Yard, the Social Security Administration, and the Department of Labor, among others.
Stephanie is a dedicated leader in her community and has mentored dozens of entrepreneurs and (Howard University) students in the areas of Business and Real Estate. She admittedly sees Drake as a vehicle to train and open career paths for minorities to reach the highest management and executive positions in construction. She also serves on the Board of Directors for the local non-profit organization Our House, which is dedicated to helping at-risk youth.
A testament to her tenacity and good works, Stephanie was recognized by her peers in the Washington Business Journal's inaugural Minority Business Leader Awards in 2008. In 2010, she was featured in the Minority Business Entrepreneur (MBE) Magazine for her firm's work and outstanding track record at the Smithsonian Institution. Also in 2010, Drake was named to the Inc. 5000 Fastest Growing Companies list, ranked # 38 in the construction category.
Stephanie is currently a member of the District of Columbia Building Industry Association (DCBIA) and African American Real Estate Professionals (AAREP), where she served in several leadership capacities since 1995, including President in 2000-2001.
Stephanie earned a Bachelor of Business Administration with a concentration in Accounting from Georgia State University, and experienced an accomplished corporate career in commercial real estate finance with Allied Capital Corporation, GMAC RFC, and First Union National Bank, before establishing Drake in 2001.