Beverly Thomas – President and CEO, Regional Contracting Services
This Audiocast brought to you by our PROUD sponsors of excellence in leadership:
---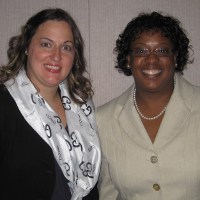 2011-06-18-lp315-newa
Mrs. Beverly Thomas is President of Regional Contracting Services in Washington, DC. She started the company in July 2001 and currently manages the sales and marketing for the company. Mrs. Thomas is also responsible for the company's charitable contributions and the company's community outreach efforts.
Mrs. Thomas received her in depth operations management, sales management and personnel management training while working for Terminix International. Mrs. Thomas worked for Terminix in Atlanta Georgia, Philadelphia, Pennsylvania and in New York City as a Branch Manager. During her time in New York Mrs. Thomas was successful at managing a 1.3 million dollar branch territory. She utilized the training and experience she received from Terminix to become an entrepreneur when she relocated to Maryland in 1998.
Before joining Terminix Mrs. Thomas worked as a Marketing Assistant for Junior Achievement in Atlanta, Georgia. During her tenure with Junior Achievement she worked within the marketing department and began developing her sales and marketing skills. While working for Junior Achievement she learned that marketing was a critical component of growing and maintaining a customer base. The valuable lessons learned at Junior Achievement are still utilized today.
Beverly Thomas manages a staff of 40 that include office personnel, project managers, field superintendents, estimators, carpenters and apprentices. She has worked diligently over the past ten years to grow the company into a successful commercial carpentry company. Beverly contributes Regional's success to her faith in God, a strong management team and the belief that every employee can contribute to the success of the company if given the opportunity.
Beverly received her Bachelors of Science degree in Management from Columbia Union College. Her current volunteer activities include the PTA, the greeter's ministry and teaching the 2-3 year old Sunday school class at her church. Beverly and her husband James have been married for 12 years and are natives of Long Island, New York. They have one child, Julian who is seven.
Regional Contracting Services has annual sales revenue of $20 million dollars. The companies bonding capacity is $5 million per job and $15 million aggregate. Regional Contracting Services has received numerous awards including 2007 Women Owned Business of the Year from Hensel Phelps Construction Company, August 2007 Hot 500 Growing Business from Entrepreneur Magazine, and 2010 Small Business of the Year Award from Congresswoman Eleanor Holmes Norton.
www.regionalcontractingsvcs.com
Interview Air Date: June 18th, 2011