Charles Ramos – President and CEO, CR Dynamics and Associates
This Audiocast brought to you by our PROUD sponsors of excellence in leadership:
---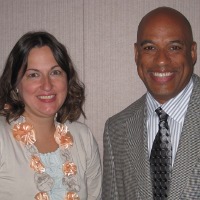 2011-07-09-lp318-newb
Charles Ramos has always had the vision to be an entrepreneur and a successful businessman.
In 1983, Charles joined Digital Equipment Corporation gaining experience in manufacturing production control and scheduling, logistics and inventory control, field service support, capital assets accounting, and sales account management. In 1992, Charles was voted Vice President of his class by his peers during the comprehensive six month S.E.L.L. Account Management program.
In 1993, Charles left to become Regional Sales Manager for Frederick Engineering, a firm that specializes in the manufacture of handheld test equipment and protocol analyzers for the telecommunications industry. While there, Charles received both employee of the month and employee of the year awards.
In 1994, Charles seized a lifelong dream and brought it to reality by utilizing his learned practical business knowledge and applying it to his own business, CR Dynamics. Through his hard work and determination, he was able to grow CR Dynamics into one of the leading contact center firms in the industry.
Today, Charles lends his considerable leadership and entrepreneurial skills to many small business organizations and civic associations. He has been recognized numerous times by his peers as an outstanding member of the Baltimore business community, including one of the "50 Most Influential Minorities in Business."
Awards, Certifications, Memberships:
Vice President, Maryland Hispanic Chamber of Commerce (2000 – 2003)
President, Howard County Maryland Hispanic Chamber of Commerce (2001 – 2003)
Treasurer, Annual Maryland Hispanic Business Conference
Advisory Board Member of the National Neighborhood Grocers Association
Howard County Maryland EBO Award (Most Outstanding Minority Owned Business) 1998
Ranked 81 of top 100 Maryland Diversity Owned Corporations (2001)
Ranked 24th Largest Minority Owned Firm in the Baltimore Metro Region (2001)
Minority Business Professionals Network; "Fifty Influential Minorities in Business" (2003)
Nominated by the U.S. SBA (Baltimore District) for Small Business Person of the Year (2003)
Governor's Appointee – Efficiency in Procurement Task Force (2003)
Treasurer Baltimore Hispanic Chamber of Commerce (Present)
Baltimore City Proclamation – July 29, 2003
Governor's Citation, – July 29, 2003
Governor's Appointee – Governor's Taskforce on Centralized Bidders Registration – August 2004
Baltimore Smart CEO 50 Fastest Growing Companies in Baltimore – (2005)
Baltimore Business Journal Top 50 Minority Businesses – (2005-2006)
Maryland Top 100 Minority Owned Businesses (Maryland Governor's Office of Minority Affairs) – (2006)
Inc 5000 Honoree (2008)
Top 100 Maryland Diversity Owned Businesses (2008)
Top 500 US Hispanic Owned Businesses (2008)
from www.crdynamics.com
Interview Air Date: July 9th, 2011