Stephan Cassaday – President and CEO, Cassaday and Company
This Audiocast brought to you by our PROUD sponsors of excellence in leadership:
---
2011-07-23-lp320-newa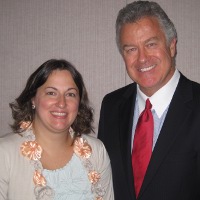 Steve Cassaday has been advising investors professionally since November of 1977, and has held senior and/or management positions with several major New York Stock Exchange member firms. In 1993, Steve left Wall Street and started Cassaday & Company, Inc. in order to provide wealth management services to investors seeking independent, objective and impartial guidance. Today, Cassaday & Company, Inc. has 20 employees and manages, or supervises, approximately $1 billion for 600 households throughout the United States. A recognized industry thought leader and sought after speaker, Steve has given over 300 public presentations on investments, financial planning and portfolio management, personal development and productivity, regularly addressing others in the industry as well as speaking before corporate gatherings, associations, community groups and at public seminars.
During his 33 year career, Steve has also been a featured speaker at major meetings of the Library of Congress, American Association of Individual Investors, AARP, The NFL Players Association, and the International Association for Financial Planning and the Financial Planning Association, among others.
Cassaday & Company, Inc. has been featured in numerous publications including USA Today, The New York Times, The Washington Post, Kiplinger's, The Washington Times, Wall Street Journal, Money Magazine, Mutual Funds Magazine, Ticker, Dow Jones Investment Advisor, Research, American Banker, The Bond Buyer, Registered Representative, Financial Advisor, Investment Advisor, Barron's Magazine, On Wall Street and The Washington Business Journal, where Steve is a columnist.
Steve has appeared on national TV on CBS Evening News with Dan Rather, It's Your Business, Nation's Business Today, Fox News Network's "Fox on Money", The Nightly Business Report and local network affiliates, among others.
A Certified Funds Specialist (CFS) and Certified Financial Planner, CFP® professional, Steve has served on the Board of Directors of the Financial Planning Association of the National Capital Area, having completed terms as President and Chairman of that organization. In 2003, he received the FPA Leadership Award for outstanding service to the profession.
Steve has been honored in Barron's Magazine as one of the nation's Top 100 Independent Advisers each year the award has been given. The award is based on assets under management, as well as growth rates.
In 2008, Steve received the prestigious Outstanding Advisor Award from Registered Rep Magazine. This award honors ten financial advisors each year based on career, personal and philanthropic accomplishments. A different advisor receives the award each year.
In December of 2008, Steve received the Financial Excellence Award from the Washington Business Journal in the category of financial services.
In 2008, Steve was among Washingtonian Magazine's "Best Financial Planners" in the greater Washington area. Steve was recognized again by Washingtonian in 2010.
Steve has been selected by the Winners Circle Group as one of Top Financial Advisers in Virginia in every year the award has been given, ranking 4th in the state in 2010.
In 2000, Steve was appointed by Virginia Governor James Gilmore to the board of visitors at Radford University and served as Vice Rector. He was reappointed by Governor Robert McDonnell in 2010.
Steve is past chairman of the Radford University College of Business and Economics Advisory Council and has endowed a scholarship fund for students demonstrating financial need at the University. Steve received the 1999 Outstanding Service Award from the Radford University Alumni Association and the Partner in Excellence Award from the University Foundation in 2004. Steve was the commencement speaker in 2005.
An active volunteer Steve has coached soccer and sponsored little league ice hockey teams.
Steve and his wife of 28 years, Mary, live in Great Falls, Va. They have three sons, Chad, Kyle and Chris.
from www.cassaday.com
Interview Air Date: July 23rd, 2011