Antwayne Ford – President, CEO and Co-Founder, Enlightened
This Audiocast brought to you by our PROUD sponsors of excellence in leadership:
---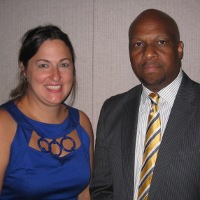 2011-08-13-lp323-newb
Antwanye Ford is the President and co-founder of Enlightened, Inc. At Enlightened, Mr. Ford is responsible for the following: Corporate Vision and Direction, Business Development, Strategic Planning, and Corporate Innovation.
Mr. Ford has worked in Information Systems for over 20 years, which helped shape his lifelong dream to be an entrepreneur. Mr. Ford started his career at a small defense contractor and later moved to MCI. While at MCI, he held several positions ranging from Systems Analyst to Marketing Product Manager for MCI's Friends and Family. In his role as a developer and project manager, Mr. Ford designed and built systems that invoiced over 20 million dollars per month, managed customer contracts, and designed user interfaces to support one of MCI's largest contracts. Mr. Ford later became one of the product managers for MCI's flagship product, Friends and Family. In his role as a Product Manager, he was responsible for product innovations, promotional development, and systems infrastructure for strategic product support.
In 1994 Mr. Ford moved from MCI to INTELSAT, the world's largest provider of satellite communications. Mr. Ford served as the Director for the Applications Support Organization, encompassing several strategic business units. The department's responsibilities included developing applications, conducting internal consulting projects, supporting software, and building the company's document management infrastructure. At INTELSAT, Antwanye also served as a "change agent" for the company. He was specifically hired for his ability to "do the hard stuff". Executive management discussed this with him during the hiring interview and stated that his success was dependent upon moving the organization from being reactive to proactive. Mr. Ford eagerly embraced the challenge as a stepping-stone towards managing his own business.
Also, in 2005 Mr. Ford was selected by the editorial board of Inside the Minds as an author in the recently released book, Inside the Minds: CEO Best Practices. Inside the Minds: CEO Best Practices – Skills, Values, and Strategies for Successful CEOs features top CEOs representing some of the nation's leading companies. Mr. Ford contributed a chapter to the book entitled, "The Spiritual Side of Leadership".
Mr. Ford is heavily involved in his community and was a founding member of Myth Men, a non-profit organization with the objective of destroying negative myths about young Black men. Mr. Ford currently serves on the Board of the DC Chamber of Commerce and the DC Chamber of the Network for Teaching Entrepreneurship. He was formally on the Board of Directors for DC Works and the Washington Math Science and Technology Charter High School. In addition, Mr. Ford coaches basketball to kids ages 13 to 15 at his church and works heavily with the Leukemia and Lymphoma Society in Washington, DC. Mr. Ford's company philosophy is based in his faith, "To whom much is given, much is required."
Mr. Ford received a B.S. in Computer Science and Information Systems and a M.S. in Information Systems with honors both from The George Washington University (GWU).
from www.enlightened.com
Interview Air Date: August 13th, 2011