Melissa Jezior – President, Owner and Founder, Eagle Hill Consulting
This Audiocast brought to you by our PROUD sponsors of excellence in leadership:
---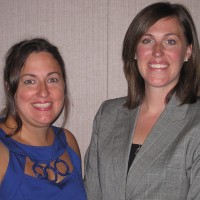 2011-08-27-lp325-new
Melissa Jezior is Eagle Hill Consulting's founder and President with responsibility for the firm's overall performance and growth. Melissa is responsible for shaping the vision and strategy for Eagle Hill and its employees and driving overall project success and client satisfaction. Since launching Eagle Hill in 2003, Melissa's strong leadership and passion for delivering high quality service to clients has led to, on average, in excess of 100% year over year annual revenue growth.
With over 15 years of experience, Melissa has a diverse background spanning strategic planning, business process improvement, change management, training strategy and design, program management, and organizational change. Through this experience, she specializes in helping clients grow their organizations through solving strategic and operational business issues. Melissa's clients have ranged from small businesses to Fortune 500 companies across financial services, media and entertainment, nonprofit, hospitality, and the Federal government.
Through her strong dedication to both Eagle Hill and its employees, Melissa has led the firm to numerous awards and recognition over the years including:
Presenting an approach to strategic planning and facilitating a panel of business executives from the broadcast industry at the 2009 National Association of Broadcasters convention in Las Vegas
Being selected by the Washington Business Journal as the #1 Small Business to work for in its 2010 Best Places to Work edition
Being selected as a 2007 and 2009 Great Place to Work by Washingtonian magazine
Being selected as a 2008 Apollo Award finalist by Helios HR
Being selected by the Washington Business Journal as a Best Place to Work in 2007
In addition to her client responsibilities, Melissa has made it a priority for Eagle Hill to support the local community. She has selected such organizations as Girls Inc., Martha's Table, International Center for Research on Women, and the Juvenile Diabetes Research Foundation, that reflect Eagle Hill's commitment to developing future women leaders and supporting families in need.
A graduate of the College of William and Mary, Melissa previously worked for Point B Solutions Group, Saltmine Creative, and Accenture, respectively. Melissa and her husband currently live in Washington, DC and enjoy raising their three children.
from www.eaglehillconsulting.com
Interview Air Date: August 27th, 2011