Cathal Armstrong – Chef and Owner, Restaurant Eve
This Audiocast brought to you by our PROUD sponsors of excellence in leadership:
---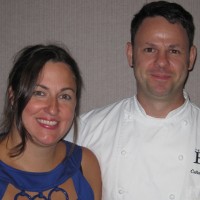 2011-09-03-lp326-newa
This impassioned toque's significant contributions to the local food movement garnered him accolades that extend beyond his cooking, including The National Restaurant Association "Neighborhood Community Award," Edible Chesapeake Magazine- "Local Hero Award" and The Washingtonian Magazine's "Green Giant Award" for those who work to protect and preserve our environment and teach the virtues of green living.
The White House has taken notice of his four star intentions as well and has honored him as a "Champion of Change."
Under President Obama's Winning the Future initiative (whitehouse.gov/champions), the White House features a group of Americans who continue to 'Innovate, Educate, and Build' throughout their respective communities. In honor of this recognition, the Office of Public Engagement hosted an event at the White House to commend Armstrong and like minded individuals who promote empowerment and inspiration.
Armstrong is a board member of Fresh Farm Markets, which operates eight farmers' markets in the Chesapeake Bay region. His devotion to the ideals of environmentalism, health and conservation has led him to lecture abroad at the request of the US State Department. He was invited by the ambassador to the Bloom festival in Ireland to "recreate" First Lady MIchelle Obama's Garden and demonstrated to school children and attendees the joys and benefits of "growing your own."
His own love of horticulture drove him to create an organic, worm composted garden, with a natural rain water irrigation system, behind the restaurant. Fruits from his trees, seasonal vegetables and herbs from his organic garden are harvested and incorporated into mouthwatering dishes that nourish the palate and the soul.
As a father of two young children he has dedicated himself to educating children and families about healthy eating. Unsatisfied by the nutritional quality, in schools Armstrong founded Chefs as Parents™ (www.chefsasparents.com) a non for profit company that will partner with The Alexandria public school system to improving the school lunch system.
Chef Armstrong is a Best Mid-Atlantic Chef nominee by the James Beard Foundation in 2011, selected as both Food & Wine magazine's "10 Best New Chefs 2006" and honored in Food & Wine magazine's "50 Hall of Fame Best New Chefs" and Best Chef Award Winner by the Restaurant Association of Metropolitan Washington DC.
Four years after the opening of Restaurant Eve, Armstrong's Tasting Room received a four-out of four star rating by Washington Post food critic Tom Sietsema.
National Magazines have featured Armstrong's commitment to culinary excellence and Irish "farm to table" style in prominent stories in Oprah, Food and Wine, Cookie, Parents, Southern Living & Martha Stewart. The Wall Street Journal, Washington Post, BBC World News, NY Times, and The Irish Times have taken note of his culinary prowess and his dedication to ending childhood obesity.
Rave reviews continue as Armstrong stretches out with complex, thoughtful cooking that knits together his Irish upbringing, his French training, and his grasp of the American culinary moment.