Dr. Homaira Akbari – President and CEO, SkyBitz
This Audiocast brought to you by our PROUD sponsors of excellence in leadership:
---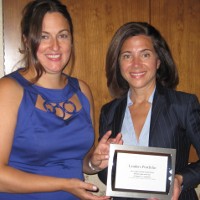 2011-09-03-lp326-newb
Dr. Akbari has more than 18 years of strategic, sales and marketing, product development and operational experience across many critical high-technology industries including software applications, IT services, security systems for homeland defense, telematics and location-based services, and telecom. Dr. Akbari has held senior management positions in TruePosition – a subsidiary of Liberty Media Corporation, Microsoft, Thales, Cambridge Strategic Management Group (CSMG), and worked as a scientist at CERN, the European Center for Nuclear Research. She draws on her international experience including nine years in Paris, London, Beijing and Cape-Town.
Dr. Akbari holds a Ph.D. with honors in particle physics from Tufts University and an MBA with distinction from Carnegie Mellon University. She is the author of more than 50 scientific articles in international journals and a frequent speaker at industry conferences and tradeshows. She serves as a judge at MIT $100K Business Plan Competition, is a member of the Advisory Council of the Johns Hopkins Department of Physics and Astronomy and The Loudoun County CEO Cabinet, and is a contributor to several non-profit organizations. Washington Business Journal named Dr. Akbari among its "Women Who Mean Business" in 2008.
from www.skybitz.com
Interview Air Date: September 3rd, 2011