Vlad Friedman – CEO, EdgeWebHosting
This Audiocast brought to you by our PROUD sponsors of excellence in leadership:
---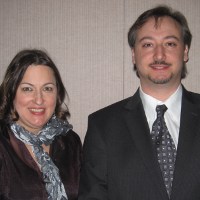 lp404-b
Mr. Friedman's technical experience began at the age of 8 with the purchase of his first computer. Despite its limited usefulness, a love affair began with this amazing little device that could do anything he told it. After 10 years of developing applications and a few computer jobs and upon graduating from high school, Mr. Friedman only saw one path; to start his own IT company.
In 1991, while attending University of Maryland in the Computer Science program, he launched Atlantic Computer Systems and Services, Inc. to provided computer networking and software development services to local small businesses. After achieving some scale, the company developed the first secure wireless ticketing terminal used in the gaming industry which was implemented globally by the largest vendor servicing the space. Several years later, ACS developed an automotive logistics management solution that achieved nationwide adoption by automotive port processors. At its peak, the software managed a significant percentage of vehicles entering and/or exiting the Unites States.
In 1998, as the internet was just starting to emerge, Mr. Friedman saw an opportunity to fill a void in the web hosting space; an immature industry at the time. As Atlantic Computers fired its 7th web hosting vendor, Edgewebhosting, Inc was born.
The mission was simple: to design, implement and support complex 100% mission critical managed hosting platforms at a predictable monthly cost. The message was simple: Stay Up, Sleep More.
What started as a single server in a closet, a T1 internet line and 1 employee at startup has transformed into a team of 30 technical gurus managing over a 1500 servers and devices across several geographically diverse data center locations servicing a wide range of customers including enterprise accounts such as Fortune 100 insurance carriers, publically traded corporations, political parties, nonprofits and commercial entities.
Edgeweb's customer centric vision has allowed the company to achieve 35% growth rate with less than 1% churn in 2011.