Carlos Rivera – Founder, Chairman, & CEO, Camris International
This Audiocast brought to you by our PROUD sponsors of excellence in leadership:
---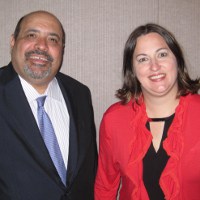 2012-06-30_lp415-correct
Mr. Carlos G. Rivera, Chief Executive Officer, has over twenty five years of experience working in the health and information management sectors. As the founder, Chairman and CEO of CAMRIS International, Mr. Rivera provides leadership and day-to-day management of corporate operations. In addition, Mr. Rivera serves as Program Manager of current efforts supporting US Government funded disease surveillance and clinical projects across Latin America.
Previously, Mr. Rivera was a Senior Business Development Executive for Multimedia Medical Systems, a leading clinical applications and telemedicine software company. Mr. Rivera was directly involved in the planning and implementation of over twenty telemedicine projects around the world. Prior to that, Mr. Rivera completed a successful U.S. Navy career as an Information Systems Officer.
Serving in a multitude of assignments, Mr. Rivera has been credited with successful Program Management responsibilities such as; the information technology and telecommunication architecture currently supporting over 300 Navy medical and dental sites around the world, Project Management of software development efforts which resulted in the successful development and implementation of ten Navy-wide applications, and similar award-winning development of the Marine Corps Standard Supply System medical asset management system which is used to manage all prepositioned medical supplies. Mr. Rivera consults and has spoken extensively on the subject of electronic medical records and related system integration efforts.
Mr. Rivera holds a bachelors degree in Healthcare Administration from Southern Illinois University and has completed graduate-level training in Supply Chain Management at Tuck University.
from www.camris.com
Interview Air Date: June 30, 2012