William Walker – Chairman, President, & CEO, Walker & Dunlop
This Audiocast brought to you by our PROUD sponsors of excellence in leadership:
---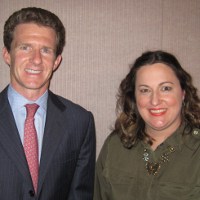 lp408-a
William M. Walker (Willy) is chairman, president and chief executive officer. Mr. Walker has been a member of our board since July 2010 and a board member of Walker & Dunlop, LLC or its predecessors since February 2000. In September 2003, Mr. Walker became the executive vice president and chief operating officer of Walker & Dunlop and has been serving as the president of Walker & Dunlop since January 2005 and as the chief executive officer since January 2007. Since 2003, Mr. Walker has transformed Walker & Dunlop from a family company to an institutional company. In 2006, Mr. Walker successfully led the buyout of AIG's 49% stake in Walker & Dunlop. In 2009, he orchestrated the acquisition of certain assets of Column Guaranteed, LLC from Credit Suisse, almost doubling the size and scale of the firm increasing our product offerings from just Capital Markets and Fannie Mae to Fannie Mae, Freddie Mac, HUD and Capital Markets. In 2010, he led Walker & Dunlop through its initial public offering, culminating with its listing on the NYSE; the first mortgage banking company in over four and a half years to access the public capital markets. Mr. Walker has restructured and re-energized Walker & Dunlop's brokerage business, watching annual originations grow from $500 million in 2003 to almost $1 billion in 2011. He then restructured Walker & Dunlop's multifamily lending business and built a direct sales force, growing originations from $638 million in 2004 to $3.2 billion in 2011 for a year-end total of $4 billion in overall originations. This substantial growth has been recorded by the Mortgage Bankers Association annual origination rankings report. In 2004 the company ranked number 56 as a lender and now ranks number 13.
Mr. Walker currently serves as chairman of the board of directors of the District of Columbia Water and Sewer Authority (DC Water) and is a member of the board of directors of Sustainable Technologies Fund, a Swedish clean-tech venture capital firm. Mr. Walker served as a board member of Transcom Worldwide S.A., a publicly traded European outsourcing company from 2004 to 2006 and served as its chairman of the board of directors from 2006 until 2011. He is a member of the Young Presidents Organization, the Mortgage Bankers Association and the Urban Land Institute. In 2011, Mr. Walker won the Ernst & Young Entrepreneur Of The Year® 2011 Greater Washington Award in the Financial Services category. Mr. Walker received his Bachelor of Arts in Government from St. Lawrence University and his Masters in Business Administration from Harvard University.