Tom Frana – President & CEO, ViON Corporation
This Audiocast brought to you by our PROUD sponsors of excellence in leadership:
---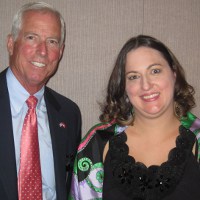 lp417a
In January of 1992, Mr. Tom Frana became the President and CEO of ViON Corporation (ViON), a hardware and systems integrator selling storage, server and software solutions and associated services to the U.S. federal government and public sector & commercial areas. Mr. Frana has 40 years of experience in the information technology industry and 34 years in the vendor environment.
Mr. Frana has been involved in supporting a wide range of functions for both federal and commercial customers. He has experience with systems engineering, sales, marketing, customer service and general management with ITEL, National Advanced Systems and Hitachi Data Systems. He has held positions in Europe as Vice President and Director of Systems Engineering and Customer Service and Support; Vice President and Managing Director in Asia/Pacific; and Vice President and General Manager of U.S. Operations for Hitachi Data Systems.
Mr. Frana was born in Annapolis, Maryland, at the Naval Academy. He spent three years in the U.S. Marine Corps and has a Liberal Arts degree from Kendall College, Evanston, Illinois.
Mr. Frana is a Founding Member of the U.S. Marine Corps Museum in Quantico, Virginia. He is also an advisory Council Member on the United Service Organizations (USO) in Dallas/Fort Worth, Texas, and has served on the Board and Executive Committee at St. John's College High School in Washington, DC, for the past ten years.
from www.vion.com
Interview Air Date: July 14, 2012