Jeanne Kimmich Roberts – President & Owner, Kimmich Software Systems
This Audiocast brought to you by our PROUD sponsors of excellence in leadership:
---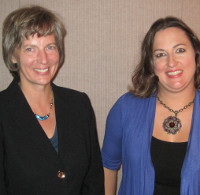 lp421a
Kimmich Software Systems, Inc., KSSI, is a woman-owned, small business providing systems and software engineering to the Intelligence Community. President and founder, Jeanne Kimmich Roberts, began her career as a software engineer in 1980, became an independent software consultant in 1989, and formed and incorporated KSSI in 1994. For over 25 years, her career has focused on the Intel Community. When founding KSSI in 1994, Jeanne's vision was to have an employee-centric company providing quality engineering support to the Intel Community. KSSI continues this model today.
As KSSI's president for the past 18 years, she has focused on her employees' welfare, teammates/subcontractors, and customers while providing quality services in combination with integrity for our Intel Community. Jeanne was the recipient of the Small Business Administration's 2003 Woman in Business Advocate of the Year runner-up for Maryland. Jeanne has also received the Ernst & Young Entrepreneur of the Year 2012 Award in the Defense and Security category in Maryland.
from www.kssi.com
Interview Air Date: August 11th, 2012